Steve Vick International was visited recently by Michelle Donelan MP, as part of the very first Family Business Week run by the Institute for Family Business (IFB).
Steve Vick International, a leading manufacturer of innovative technologies for use in the utilities industry, were keen to support this new initiative from the IFB as family run organisations are crucial to both local and national economies.
Last year, Steve Vick International celebrated their 40th anniversary and Family Business Week therefore provided the ideal opportunity to invite Michelle to their offices and demonstrate how involved they are in the local community, plus show the growth and continuing expansion of the company since moving to the premises in Bradford on Avon in 2015.
Michelle was taken on a tour of the building and given demonstrations on some of the key SVI products, including Live Mains Insertion, SMARTester and two of the company's latest innovations, the Pipe Coil Feeder for district heating pipe and the PE Pipe Cutter.
Michelle Donelan MP commented:
"I was very happy to accept an invitation to visit Steve Vick to celebrate Family Business Week. Small businesses are the backbone of our economy and many are actually family businesses. Steve Vick International have developed a successful, thriving and innovative business in Bradford On Avon.  We also spoke of the skills shortages they have faced and my work as a Minister to help plug these skills gaps and forge a strong relationship with business and our education system so that individuals leave it work ready and skilled in the right areas.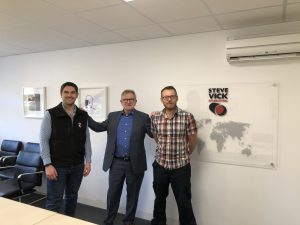 Steve Vick, Chairman at Steve Vick International commented:
"We were delighted that Michelle accepted our invitation, and it was a great pleasure to show her what we do.  We hope she enjoyed her time with us and could see the level of our involvement in the local community.  Being a family business is hugely important to myself, my wife Angela and the rest of the team at SVI which is why we wanted to show our support for Family Business Week, which by all accounts has been a huge success."