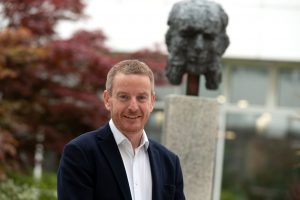 Carl Ennis, Chief Executive of Siemens believes a refocus on the road to net zero and the climate emergency will cause the impact of the pandemic to fade.
"While COVID continues to dominate the agenda, it's impact could well fade as the engineering and technology industries refocus their efforts on other pressing challenges during 2022; namely the road to net zero and the climate emergency.
"Following COP26, the list of net-zero measures proposed in the Government Net Zero Strategy paper* are both wide-ranging and far-reaching.  Recommendations cover everything from heat, transport, industry, energy, investment and innovation. And just as we turned to our scientists and engineers in our time of need in the pandemic, we'll likely do the same as we seek answers to solving the greatest threat to our existence over the next three decades as we strive to hit the 1.5-degree target.
"The fourth industrial revolution can tackle 70% of the 169 sustainable development goals outlined by the UN**. Big data, AI, blockchain, IoT and advanced materials and manufacturing are all technologies we can deploy right now and scale quickly."
To get there, Carl suggests we will need:
A far greater focus on local delivery of national ambitions. We cannot achieve net zero in the UK without significant progress at local level, whether that is transport, housing, energy, or waste.
To prioritise decarbonising homes and buildings – an area often deemed too costly and polarising for the majority of residents. Houses are the single biggest source of expenditure for many people and green upgrades will need careful planning, subsidising and communicating.
A fair and just way of pricing carbon in the UK. Around 1.7% of GDP comes from taxes on fossil fuels amounting to £37bn. Energy billpayers, motorists and homeowners are already paying for this transition via increased costs or taxation.  There remains a case for a broader carbon tax, which would be simpler to understand and provide a clear incentive for all of us to reduce our carbon. Further discussion on the issue in 2022 is expected.
Professor Paul Beasley, Head of Research and Development UK at Siemens believes the UK leads the world in energy technology research but now we need to deliver on a global stage.
"In order to remain on track to deliver on the COP26 and 2050 Net Zero commitment the Government will need to increase support and funding in 2022. The UK has generated some fantastic research on energy technologies but achieving the 2050 target will require greater investments to help accelerate the deployment of these technologies at scale.
"For example, we need more demonstrator projects to test newly developed technologies in full-size energy systems – to understand how these solutions behave in the real world and whether their performance can scale. The UK also needs to invest in more research on integrating these technologies with existing and new solutions. This is a process which requires a series of iterative steps to optimise how different solutions work together.
"Optimisation of future decentralised energy networks will also require the integration of the latest secure, low latency communication systems and digital technologies. However, the increased adoption of digital technologies and real-time sensors in the energy network will also attract cyber-attacks which will become a big concern. As such it is critical that the UK put the right cyber security measures in place to protect national assets, as well as attracting more digital skill into the energy sector.
"Finally, we will see more importance and availability of integrated data and use of artificial intelligence, data analytics being put to greater use in the energy network, for example, to predict and prevent outages such as those recently caused by storm Arwen but also optimised operation of the systems."
Bernard Magee, Director – eMobility Infrastructure Solutions Siemens has seen a rise in workplace charging and zero-emission HGVs.
"In a push to build the UK electrical infrastructure, the government announced that all new buildings in 2022 are to have electric vehicle charging points, alongside all new construction projects, workplace and retail buildings.
"The electrical infrastructure in the UK is growing and there are around 48,000 public charging points in almost 18,000 locations (according to Zap-Map).  The UK is also aiming to install 145,000 charging points by 2030 in tandem with a ban on the sale of new internal combustion engines by 2030 (2035 for motorcycles) and zero tailpipe emissions from 2035.
"There will be a rise in workplace charging.  Businesses are recognising the need to build a sustainable fleet and support these vehicles with workplace charging.  This, combined with the increasing numbers of ev models in the market, will help to support domestic adoption and, in turn, further influence the hospitality and leisure sector to provide charging in their carparks.
"With HGVs accounting for 18% of greenhouse gas emissions and 13% of nitrogen oxide (NOx) emissions for road transport in the UK according to the Department for Business, Energy & Industrial Strategy (BEIS)*** the UK will also become the first country in the world to commit to phasing out new, non-zero emission heavy goods vehicles weighing 26 tonnes and under by 2035, with all new HGVs sold in the UK to be zero emission by 2040.  This Government directive, one of the Glasgow breakthroughs, launched at COP26, paves the way for further innovation in the eTruck and eVan space. We're seeing the well-known OEMs coming to market with hugely innovative eHGVs and vans, whilst simultaneously new brands are picking up the mantel, introducing their vehicles to the space. 2022 will be the year we'll see more and more of these eVehicles on roads up and down the country.
"There will also be a need to pick up the pace with regards to installing a nationwide charging infrastructure network, more affordable vehicles, as well as the necessary grid upgrades to commercial premises to cope with the increase in energy usage."
 *https://www.gov.uk/government/publications/net-zero-strategy
** https://www3.weforum.org/docs/Unlocking_Technology_for_the_Global_Goals.pdf
*** https://brc.org.uk/climate-roadmap/section-6-pathway-3-moving-to-low-carbon-logistics/611-heavy-goods-vehicles-hgvs/