With an ambitious target of net zero operational emissions by 2030, many English water companies have embarked on infrastructure improvement programmes. But of course, these civil engineering projects create their own carbon footprint and raise the debate about whole life carbon accounting once again.
So, is the industry in danger of creating many more emissions to achieve net zero and are there ways to mitigate the impact of improvement works?
"It's a question of challenging the status quo" says Ed Howard, Managing Director of Soil Science. A specialist contractor that delivers temporary haul roads, compounds and working platforms using its unique Sureground™ technology.

"Haul roads have traditionally been seen as a means to an end.  Constructed the same way for decades with little thought given to the environmental impact or cost, due to their temporary nature" said Ed.
Sureground™ is radically different. No material taken offsite or to landfill. Top soils are stripped and saved while subsoils are analysed and a tailored binder mix is created in the lab. Back onsite specialist dust free plant rotovates the bespoke binder into the subsoil, moisture levels are optimised and the surface compacted. The surface can be then surface armoured for longer projects.
Upon decommissioning a bespoke reagent is introduced to rotavated subsoils restoring pH and nutrient to the original DEFRA indices. Existing topsoil is carefully managed, preserved and returned to the area before cultivation restores growth.
While every project is different, independently verified results have shown multiple benefits using Sureground™ from programme reduction times, improved health and safety, the fact that its maintenance free and totally reversible.
Then there's the environmental credentials. While every project via its nature is different, the company regularly publishes independently verified figures like a 67% reduction in carbon emissions, a 75% reduction in vehicle movements and a 75% reduction in aggregate imports. In fact, overall savings for this type of groundwork of some 30%.
"What's more with the cost of diesel, it's not only the planet this technology is saving." Ed added.
Ed joined Soil Science this year, having extensive experience in the water industry with names like Ham Baker. He concludes:  "Sureground™ isn't that well known in the water industry and that can make customers cautious as they're not familiar with it. However, it has a proven track record and is used by multiple major contractors including Balfour Beatty and Barhale, the latter, at its project for Affinity Water in Amersham. If you're looking to make savings on both budget and carbon emissions, then question every part of the process."
Sureground in action, Affinity Water, Barhale Case Study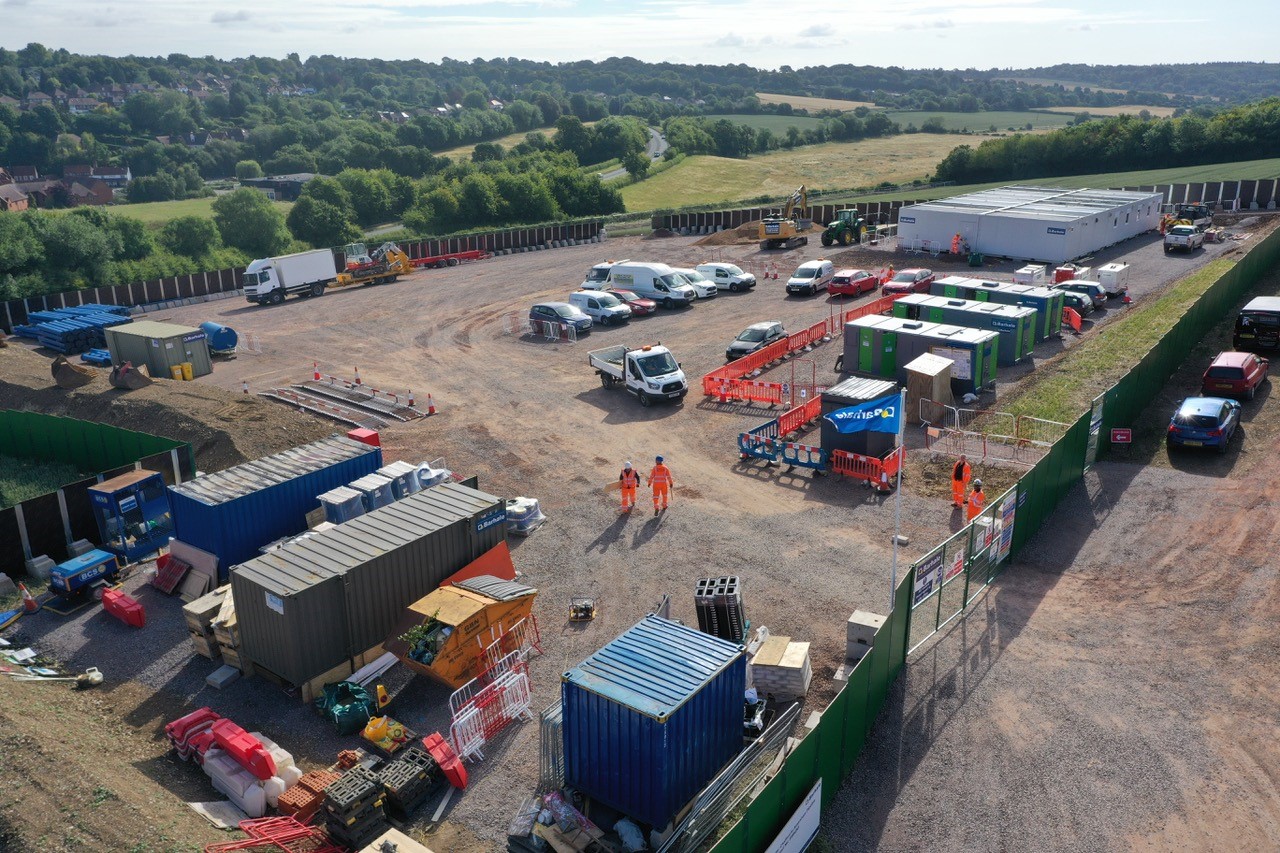 As part of the C2A works undertaken for Affinity Water, Barhale required an access and compound solution to lay 4km of pipework, which involved 3,700m of open cut and 300m of directional drilling. 300mm ductile iron clean water pipework and 355mm PE pipes were utilised across third party fields between Chalfont St Giles and Amersham on behalf of Affinity Water.
The farmers field would have to be successfully restored upon completion of works in order to make the scheme viable. The unique Sureground™ Reversible Soil Enhancement System was selected as the pH and nutrient could be restored to pre-start DEFRA indices upon the completion or works, offering full regrowth.
Programme was also key to the works as the scheme had been delayed due to external factors with no room for movement on the proposed completion date. A safe and efficient site operation adhering to Government COVID-19 advice was also required to undertake the works.
Soil Science mobilised to site undertaking a topsoil strip before rotovating site won sub-soils in situ with Sureground™ Binder. The area was then surfaced with 100mm of primary type 1 stone to act as a wearing course.
The works were successfully and safely completed ahead of programme with vastly improved environmental and commercial metrics. The solution exceeded 30% CBR upon completion of testing.
Project Savings:
Cost Savings: 30%
Programme time reduction: 67%
Vehicle movement reduction: 70%
Carbon emissions reduction: 60%
Imported aggregate reduction: 65%
Material sent to landfill reduced by: 100%
Stone depth layer reduction: 67%
*project emissions can vary per project