A water monitoring system developed in a collaboration between University of Birmingham researchers and Proteus Instruments, that remotely measures the quality of water in rivers, lakes and reservoirs, has resulted in a Queens Award for Enterprise (Innovation) for the company.
The technology resulted from a Knowledge Transfer Partnership with researchers Kieran Khamis, Chris Bradley and David Hannah from the university's School of Geography, Earth and Environmental Sciences, and has a wide range of applications in the water quality, environmental, leisure and fishing sectors.
It resulted in the Proteus multiprobe, which is manufactured and distributed by Proteus Instruments, a trading division of RS Hydro Ltd, and the recipient of the Queen's Award.
The probe provides real-time data on the levels of dissolved oxygen, organic carbon and detects bacterial contamination, to provide continuous monitoring of the health of water systems, their ability to support aquatic life, and their safety for leisure use.
The multiprobe can also be programmed to deliver other measurements of water quality such as biochemical oxygen demand (BOD), or the amount of dissolved oxygen taken up when organic matter breaks down in water.  This parameter, which has previously only been measurable by a 5-day laboratory test, is vital to ensure that wastewater can be discharged into water systems without the risk of harming aquatic life.
The company believes the Proteus multiprobe will change the way water quality is monitored, as it has the same level of accuracy as laboratory testing, and delivers data in real-time, so can provide continuous monitoring. They also say it is also robust and low-maintenance, meaning it can operate in even the harshest and most remote environments
The probe has already been installed in locations around the world including the River Ganges, the Chicago River, and Swansea Docks, and the company, which is already working with water companies, environmental regulators, and NGOs including the World Bank, is confident of a high demand for this new technology,
Rob Stevens, Managing Director of Proteus Instruments, commented: "The Proteus multiprobe is a highly disruptive technology that is poised to change practice in water quality monitoring.  Our current installations have shown that the multiprobe is an effective, efficient, and immediate way to measure parameters such as BOD or the presence of coliform bacteria, which indicate the potential presence of disease-causing bacteria in water.

The team is extremely proud to be awarded the Queen's Award for Enterprise: Innovation.  We are one of only 51 organisations in the UK to receive this award, which is the highest accolade for any UK business."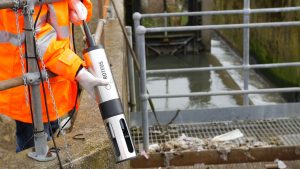 In addition to dissolved oxygen, organic carbon, coliform bacteria and BOD, the multiprobe can also be programmed to detect and measure water pressure, pH, temperature, salinity, turbidity, pollutants including chloride, optical brighteners, nitrate, tryptophan, crude and refined oils, ammonium, and chemical processes that use oxygen in water.