GEO Business made a big impact on the UK geospatial profession as it returned to ExCeL London on 18-19 May.
The 2022 edition of the show welcomed an impressive increase in visitors, confirming the upward trajectory of the sector and the vital role of trade events in facilitating business and sharing ideas.
GEO Business Event Director, Ollie Hughes, says: "With such a high rate of visitors, it's hard to believe that GEO Business 2021 was just six months ago! It was so rewarding to see geospatial professionals come together in such a friendly and energised way.

"GEO Business 2022 was a hub of activity for the two whole days. Whether you were checking out new tech, learning from thought-leaders, or making new connections, I sincerely hope this year's event helps to strengthen your career and business."

Simon Lloyd, Business Development Manager for Site Vision Surveys Ltd, says: "GEO Business 2022 was a great event. We were able to share our brand with many customers and industry peers. We also enjoyed hearing about the latest innovations and talking to potential clients about our services. We look forward to coming back next year!"
Eye-catching new technology
At the Hexagon Village, visitors got the first look at the new Leica AP20 Autopole, alongside the recently launched Pegasus TRK reality capture mobile mapping system. Not only that, but visitors also flocked to live demonstrations of the Leica BLK ARC autonomous with the iconic SPOT from Boston Dynamics.
Stuart Guthrie-Cadge, Marketing & Engagement Manager for KOREC Group, says: "This year's GEO Business delivered an impressive number of visitors who were noteworthy in both quality and quantity. The show provided a much-needed opportunity to reconnect with customers in a lively environment, and it was encouraging to see such a diverse programme – great work!"
Plus, Topcon Positioning showcased their latest machine control solutions, including the Topcon GT series and Clear Edge software. And visitors got the chance to try on the new NavVis VLX laser scanner with the accompanying IVION software.
Siobhan Reisinger, Marketing Program Manager for NavVis, says, "NavVis was delighted to return as an exhibitor at GEO Business 2022! Visitors were keen to learn more about mobile mapping and experience NavVis VLX in person. Shows like GEO Business are vital to our success as a B2B software company in the geospatial industry. Thank you for another superb show and to everyone who visited us at our booth."
Several UAV products were on show, courtesy of RIEGL, Aetha, AlphaGeo UK, Lidaretto, Orthodrone, and Teledyne Geospatial who also displayed the new Optech Galaxy airborne lidar.
Dave Foster, Managing Director for RIEGL UK Ltd, says, "RIEGL featured UAV scanners and TLS with robotic integrations. On both days the booth was busy with professionals highly interested in our Ultimate LiDAR™ range. RIEGL is delighted with the footfall and many high-quality leads now being followed up. This year's show was extremely successful and we're looking forward to 2023 already!"
Also garnering attention on the show floor was the mobile mapping vehicle used by 135 Geographic Squadron RE. The vehicle offered a unique chance to check out Bulk Repro which can plot hundreds of maps in one hour.
Thought leadership on vital topics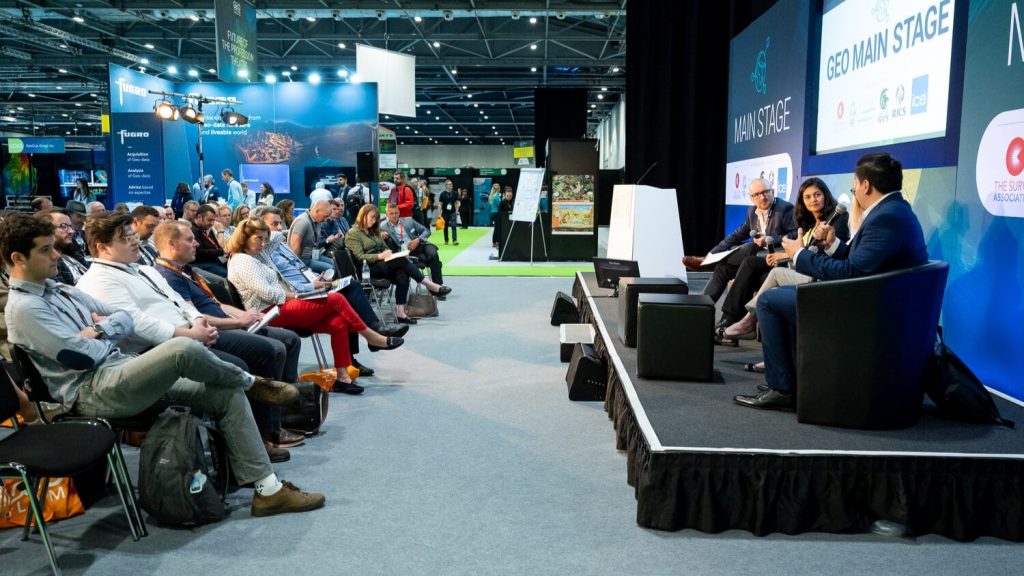 The Main Stage provided a platform for respected thought-leaders from across the geospatial profession, such as Dr Anthony Veal from Met Office, Dimitrina Pironkova-Teofilova from SKANSKA UK PLC, and Ananya Jaidev, Helen Markides and Tom Perks from Greater London Authority. The stage was also set for several panels to shine a light on the biggest topics, including the UK's National Underground Asset Register, inclusion and diversity, and the 'golden thread'.
Helen Markides, Infrastructure Data and Innovation Lead for Greater London Authority, says, "We enjoyed seeing the breadth of the sector and how many applications there are for geospatial data and services. We enjoyed meeting fellow geospatial professionals in person rather than virtually – particularly suppliers that we've worked with over the years and the opportunity to meet international partners."
The Environment & Sustainability Stage also brought vital topics to the table, including the web bulb phenomenon with Alice Goudie from Emu Analytics and the challenges of sustainability with Dan Hirst and Donna Lyndsay from Ordnance Survey.
Over at the GIS & Data Hub, visitors soaked up information on data management, mobile mapping, and satellite imagery. And elsewhere, visitors gathered to learn about surveyor robots with TinyMobileRobots, digital workflows with Trimble, and professional development with CICES.
GEO Business returns in 2023
Ollie Hughes concludes, "We would like to give our thanks to every single visitor, exhibitor and speaker who helped make GEO Business 2022 one to remember. And I hope you left feeling informed and inspired.
"It's all hands on deck now as the team and I plan for GEO Business 2023. You can register your interest to attend via our website, and our sales team are here to answer any questions you may have if you are interested in exhibiting or speaking at next year's event."
GEO Business returns to ExCeL London from 17-18 May 2023. To find out more and register your interest, visit www.geobusinessshow.com