Global technology giant Siemens has evolved its strategic engagement program with universities to include, for the first time, seven universities from the UK in the top tier of innovation partners for their new global Research and Innovation Ecosystems (RIE).
Made up of 16 regions around the world, two of which are in the UK, each ecosystem includes universities, Siemens companies, research institutes, catapult centres, innovation start-ups, creative individuals, business partners and customers, all collaborating to create, scale, and deliver ground-breaking technologies and services to market in the shortest possible time and with maximum impact.
Siemens employs some 40,800 people in research and development world-wide, 14% of its global workforce, invests €4.6 billion annually to drive innovation and files around 42,000 patents each year, making it one of the top innovative companies in the world. Over the past 10 years, the company has developed a local network of external partners in its research and currently runs over 130 projects a year with UK universities. The involvement in the Siemens RIE gives the selected universities priority access and maximum support in identifying, winning and executing local and global projects with Siemens, its customers, governments, institutions and other research commissioning and funding bodies.
Selected from 200 global universities considered because they share Siemens' core interests in Digital Industries, Smart Infrastructure, eMobility and Core Technologies, the seven UK universities research remit is very broad: decarbonisation with University of Birmingham; routes to net zero with Newcastle University; cybersecurity and data analysis with University of Oxford, University of Cambridge and University of Manchester, to the future of manufacturing with University of Nottingham and University of Sheffield. These universities now get priority access to the Siemens Open Innovation Platform, with identified real world challenges; access to Siemens industrial researchers and business leaders; tech mentoring and business contacts to support academic start-ups; collaboration with customers and business partners to establish new relationships; groups created to jointly leverage funding opportunities; the possibility of international partnership building within and across the Siemens RIEs; and customized access to Siemens' software and products for academic research and education. To facilitate the close collaboration between the universities and their RIEs, Siemens embed staff permanently at the universities and encourage the flow of interns and recruitment into their businesses.
The Universities are Siemens strategic partners, and each partner has a collaboration framework agreement in place to accelerate engagement in projects. These UK universities were assessed to be in the top 10 leading global institutions for one or more of the fields of interest to Siemens for collaboration.
Prof. Paul Beasley, Head of R&D UK at Siemens explains: "Alongside traditional contract research, we work closely with our stakeholders around the world on innovation projects, in publicly funded research consortia and to explore multiple other individual collaboration formats. We have world-class partnerships across a number of UK universities which, with the support by UKRI, collaborate on a wide range of multi-disciplinary projects producing innovative solutions, technologies and skills for the future. These projects will provide new insights and innovative solutions with wide ranging benefits for everyone. We strongly believe that innovation is best delivered by networks and collaboration is the key to success. We have now moved to make collaboration closer and with a wider group of interested parties."

Professor Tim Jones, Provost and Vice-Principal of the University of Birmingham, explains the University's ambitious vision: "Working with Siemens we are making our campuses in Edgbaston and Dubai the smartest globally, through an array of 23,000 sensors and a large-scale energy living lab which monitors power generation, use and management whilst significantly reducing our carbon footprint. With the new opportunities offered by the partnership with Siemens, we are enhancing our student experience."

Professor Brian Walker, Pro-Vice-Chancellor, Research Strategy and Resources, Newcastle University, said: ''Newcastle University values its strategic partnership with Siemens as a flagship and a benchmark for other strategic relationships. Over many years, the Newcastle-Siemens partnership has underpinned excellent research and innovation, coupled with industry-leading experiences for our students, in areas ranging from energy systems integration to offshore wind and from electrification to data science. We are excited to see this relationship consolidated within a Siemens Research & Innovation Ecosystem and thereby connected with the actors with whom we can accelerate our contributions to net zero carbon.''

Professor Andy Neely, Pro-Vice-Chancellor for Enterprise and Business Relations, University of Cambridge says: "The University of Cambridge is delighted to be a Siemens innovation partner. Cambridge is one of the UK's leading centres of research into data and AI and it is by working closely with global partners such as Siemens that we are able to bring new ideas and technologies out of the lab and into the real world, making a difference to people's lives around the world. Siemens already has a strong presence in Cambridge, and we are looking forward to building on those connections to forge new and fruitful collaborations."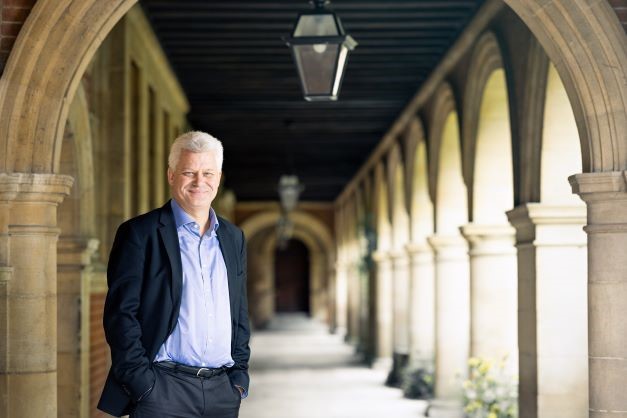 "We are delighted to be a part of Siemens' research and innovation ecosystem. This provides an excellent opportunity to further enhance our partnership, and for our world-class researchers to collaborate with Siemens to solve the challenges facing society" commented Professor Dame Jessica Corner, Pro-Vice-Chancellor (Research and Knowledge Exchange), Nottingham University.

Dr Andy Gilchrist, Business Development Manager, University of Oxford says: "The University of Oxford is delighted to be a Siemens innovation partner. This is the next step in a relationship that has delivered the Siemens Green Ammonia Demonstrator, novel approaches to battery management and information science and a range of tripartite data and energy projects with the Technical University of Berlin. We are looking forward to broadening the range of the partnership and ensuring good new science is deployed quickly in the real world to make positive impacts".

Professor Jim Litster, Vice-President for Engineering at the University of Sheffield, said: "For the University of Sheffield, the Siemens partnership provides a great opportunity to connect with real manufacturing operations where our academic work can make a real difference. Our partnership is deep and well established, and this news demonstrates the University of Sheffield's commitment to collaborate closely to advance global research and innovation. We have one of the largest cohorts of engineering students in the UK with over 6,700 students and through this partnership with Siemens our students have been able to put what they learn in the lecture theatre into practice. Our strategic graduate recruitment plan has set a precedent for how Siemens works with its other university partners, and as a result, we've grown to be one of the largest suppliers of highly skilled engineering graduates to Siemens in the UK."

Professor Luke Georghiou, Deputy President and Vice-Chancellor said: "The University of Manchester is delighted to be strengthening our long-established partnership with Siemens by participating in its global Research and Innovation Ecosystems. We welcome the opportunity to be more deeply embedded into Siemens R&D programs as well as expand our reach for collaboration with their customers and business partners. Our research and innovation strengths in the digital space and beyond complement Siemens core business and we look forward to collaborating to achieve high impact scientific and technological breakthroughs."

Carl Ennis, CEO of Siemens UK, makes the point: "This is an important recognition by our global business that UK universities have a lot to offer in innovation, ingenuity and creativity. These universities have demonstrated that they are more than capable of leading and participating in collaborative projects locally and globally."