There is no mistaking we are in a climate crisis. There needs to be drastic changes over the coming years in order to change the way we live and operate. Air pollution in large cities is only a fraction of the greater problems caused by modern vehicles, but it plays a huge role in the heath of both the population and the environment.
A case study from the Netherlands highlighted the overall environmental benefits of running electrical fleets compared to conventional fuels: "Electric vehicles drove more than 700,000 kilometers during the trial. This cut the amount of CO2 the city's vehicles emitted by 67% and particulate matter emissions by 10%. The trial also meant that the city completely stopped emitting NOx."
It is for this reason the brand new CityFlex C40e was developed by Bucher Municipal. With the current demand for electric technology rising and the full electrification of fleets being 'inevitable' (Samsara, 2020), all sectors must look to embrace the future.
The CityFlex C40e was very well received at its launch at IFAT 2022 in Munich. The fully electric sewer cleaning unit sets a milestone for the electrification of heavy-duty vehicles and makes operations in urban zones quiet and free from tail pipe emissions.
This development was made possible by optimising the technology from the successful Bucher CityFlex C40 diesel version to meet the special requirements for working in urban zones, where regulations of CO2 and diesel emissions have been tightened.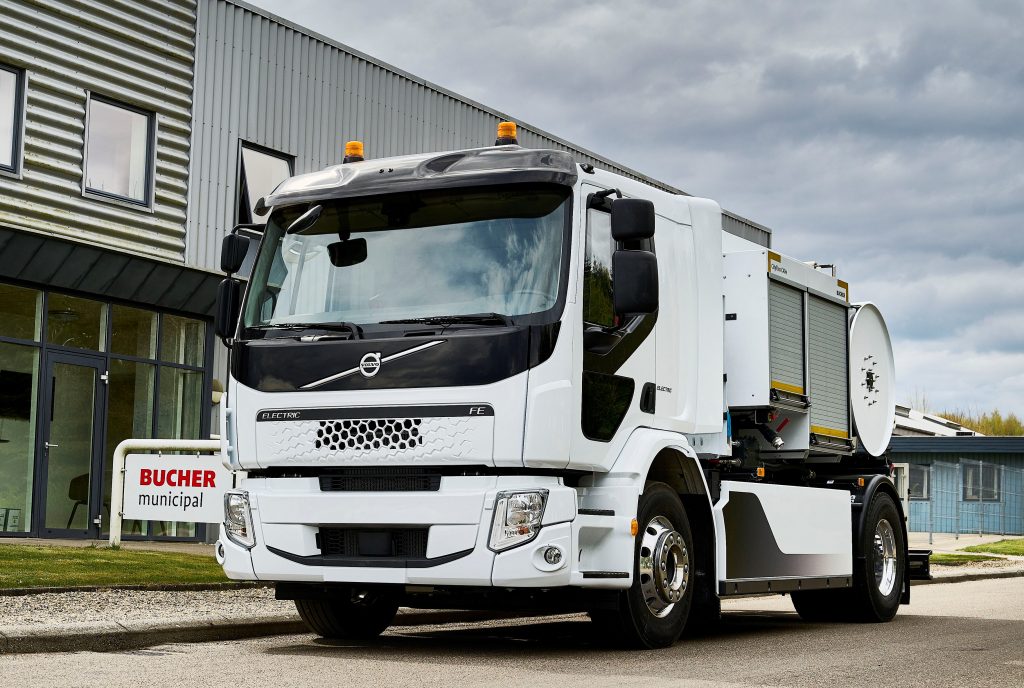 The powerful 265 Kw battery has an impressive range of 200 km and up to 3 hours of operational time. With the ability to fully recharge in as little as 2 hours, and its compatibility with type II charge stations, range anxiety isn't an issue.
Bucher Municipal is leading the way in electrification of municipal vehicles with their road sweepers and winter maintenance equipment being the first to be electrified – and now with the expansion of electric sewer cleaners they now offer electric versions of their products in every division.
Another exciting product being brought to the market by Bucher Municipal this year is the introduction of the GullyFlex; a medium and low volume combination unit. This entry level combination unit carries all of the Bucher product qualities their customers value with simple controls, allowing users of alternative products to easily adapt to the Bucher gully tanker.
The 8m3 body is manufactured from 6mm carbon steel for outstanding durability and improved resale values and can be fitted with a stainless-steel insert for easier discharge. With dual lifting cylinders, the hopper is more stable and can be tipped to a 45-degree angle.
The Gullyflex can be purchased with a full hydraulic gully boom for improved ergonomics or a manual gully boom for low cost. The jetting pump options provide a 35 litre per minute, 250 bar option for basic gully cleaning and washdown or a 120 litre per minute, 160 bar pump for jetting and unblocking sewers and gullies. It will be mounted in the Dorking factory in Surrey and can be mounted on wide range of 18-ton chassis options.
Bucher Municipal will be showcasing this sewer cleaning range at No Dig Live on stand 13 where you can find out more information about the new CityFlex C40e and GullyFlex units.