Long-standing Mercedes-Benz operator Binder has made a welcome return to the three-pointed star by purchasing an eight-wheeled Arocs which it is now using to empty sewage plants and septic tanks throughout East Anglia.
Established in 1964, the third-generation family business provides a comprehensive wastewater management service for commercial and private customers. Its headquarters in Claydon, Ipswich, is also the site of one of the region's only liquid waste treatment facilities.
Binder has been running Mercedes-Benz trucks since the mid-1990s. Today, all but a handful of its 17 vacuum tankers, which range in size from 18 to 32 tonnes GVW, wear three-pointed stars.
However, those vehicles Binder has acquired over the last five years have been based on chassis by another manufacturer. The company's new 8×2 Arocs 3236L therefore represents a welcome return to the brand that has been so integral to its success over the last two-and-a-half decades.
Acquired with funding support from Mercedes-Benz Finance, the truck has a ClassicSpace M-cab and is powered by a 10.7-litre in-line six-cylinder engine that generates 265 kW (360 hp). The single drive axle means it is significantly more fuel-efficient than an 8×4 32-tonner, while the rear axle's turning function reduces tyre scrub as well as enhancing manoeuvrability.
It is fitted with a 4,000-gallon tank by Whale Tankers, of Solihull, which is also building a 3,000-gallon body for the 6×2 Mercedes-Benz Actros 2533L that Motus Truck & Van will be delivering later this summer.
Motus Truck & Van began trading a year ago, after bringing together as a single, unified business, two long-serving Mercedes-Benz commercial vehicle Dealers. One of those former Dealers supplied Binder's previous vehicles.
Though now 86, Wally Binder still takes an active interest in the company he founded. His sons Charles and Richard are Directors, while Richard's children Edward, another Director, and Jennifer, an Accountant, also work for the family concern.
Richard Binder recalled:

"Having operated only Mercedes-Benz trucks for many years we've recently been buying vehicles of another brand, because they were available at short notice and very keenly priced.

"Those trucks have been OK, but because they've always been extremely reliable and cost-effective to run, we're very pleased to be buying Mercedes-Benz vehicles again. The delivery timetables on our new Arocs and Actros were better than we'd been quoted in the past, and the acquisition and maintenance packages put together by Motus Truck & Van were highly competitive."

He continued: "Aftersales support will be crucial, of course. Motus have been doing a good job with our older vehicles, so I'm confident we'll also get the back-up we need."
Binder's new Arocs is the subject of a seven-year Mercedes-Benz Complete Service Contract, under which it is now being inspected and maintained by the workshop team at the Dealer's branch on the Martlesham Heath Business Park, Ipswich.
As well as being the first vehicle it has purchased from Motus Truck & Van, the Arocs is also Binder's first from the current model generation. It came equipped with a full complement of advanced technology including MirrorCam, the manufacturer's ground-breaking replacement for conventional mirrors.
The camera system enhances safety – not only do drivers benefit from greatly improved rear visibility, with reversing guides displayed on screens inside the cab on the A-pillars, but the absence of conventional mirror housings also eliminates forward-facing blind spots.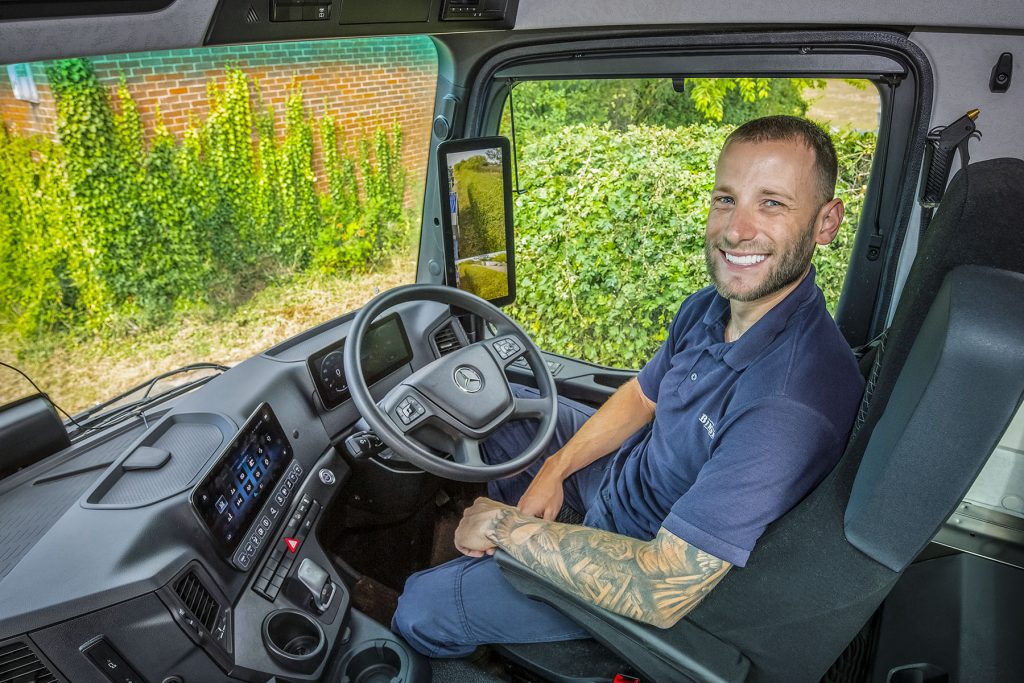 Driver Zach Youngman is certainly impressed: "The images from the cameras are brilliantly clear and allow me to see so much more of the lorry, which is a big help when I'm reversing. What's more, I don't have a big slab of mirror obscuring my view to the front.

"The fact that the cameras are mounted on the roof is also an advantage when I'm on narrow lanes, as it means they're less susceptible than mirrors, to damage from hedgerows or oncoming vehicles."

Having come out of a double-drive eight-wheeler, he has also been pleasantly surprised by the enhanced manoeuvrability of his new truck. "I didn't expect the Arocs to be so nimble," said Zach. "The turning circle is a lot tighter."

Richard Binder had praise, too, for Motus Truck & Van Sales Executive Ben Sheldrake. "Ben's a really good lad," said Mr Binder. "His customer service has been excellent, as he's liaised with the bodybuilder and kept me fully informed throughout the acquisition process."
From design, through to installation and ongoing maintenance, Binder is committed to sustainability and its liquid waste management operations are approved by the Environmental Agency. The company recently launched its Green Initiative, under which it is gifting a native tree for every residential installation.