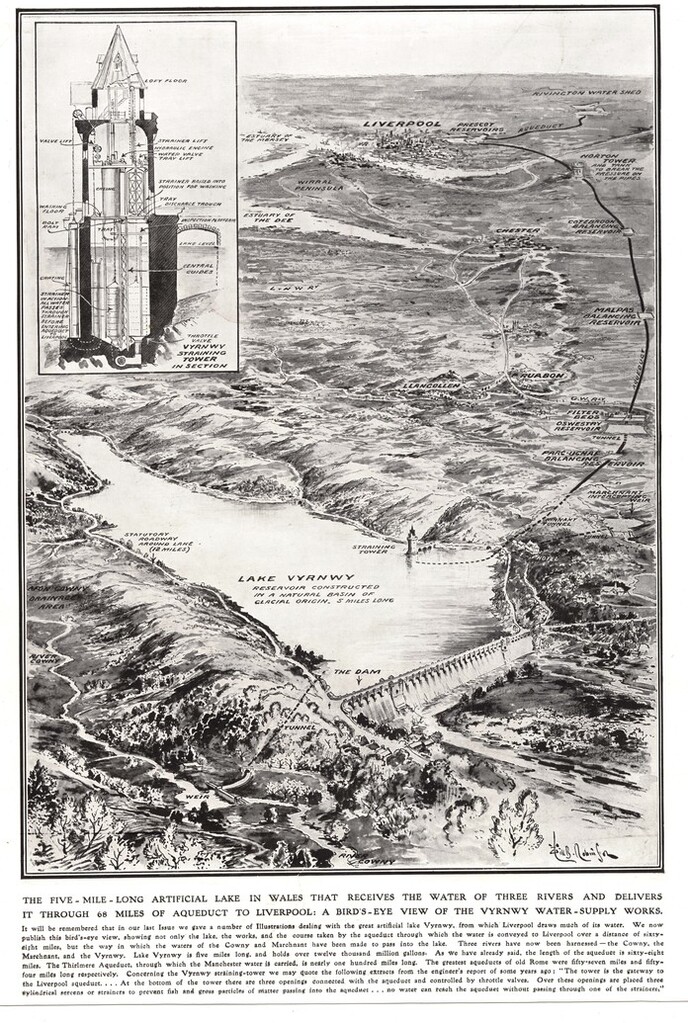 A five-year project to refurbish the Vyrnwy Aqueduct has taken a step forward with the contract awarded to carry out the next phase of work in Cheshire.
The aqueduct runs from Lake Vyrnwy in Wales to Merseyside and was completed in 1892. Earlier this year United Utilities began to consult on plans to enhance the three, one metre diameter parallel pipelines, and ensure they can continue to deliver high quality drinking water to customers across Cheshire, Merseyside and the North West.
United Utilities has selected Avove as the contractor for the phase of the programme between Malpas and Tarporley. The Chorley-based infrastructure services and engineering company will be working across all three of the pipelines – two made of cast iron and one of steel – to remove the build-up of minerals which has collected inside them. The minerals don't pose any health risks but can sometimes run through to taps and result in discoloured water. The older two pipes will be relined, while the newer of the three will be cleaned.
John Hilton, Programme Director at United Utilities, said: "The Vyrnwy Aqueduct is an incredible feat of engineering and a vital asset that helps ensure we can supply high quality drinking water to our customers.

"Upgrades at our water treatment works and refurbishment of the pipes which run south of Malpas have already been completed, and now the next phase of the programme in Cheshire and Merseyside can get underway.

"The challenge of relining and cleaning these large diameter pipes over long distances, from a number of access points, is significant. Avove demonstrated that they have the skills and expertise to complete this work to a high standard, and we are delighted to be working with them."

James Lawlor, Account Director from Avove, said: "We are absolutely delighted to have been selected to support United Utilities in delivering such a vital upgrade to the Vyrnwy Aqueduct's pipelines. The improvements we make between Malpas and Tarporley will ensure the highest quality of drinking water is provided to people living in the area for decades to come.

"As a new company launched in April this year, we were able to demonstrate an innovative and agile approach to managing these essential works, delivering the best possible standards of water hygiene with the least amount of disruption. We are excited to get started so that customers can start benefiting from these enhancements as soon as possible."