Scottish Water is demonstrating technology leadership with a UK and Sector first deployment of Grandperspective's scanfeld.
This revolutionary new gas emissions monitoring technology utilises Fourier Transform Infrared (FTIR) technology to identify, quantify (to parts per million) and localise over 200 different types of molecules from up to 2 kilometres away and can therefore quantify large areas of land for their gas emissions, such as a wastewater treatment works (WWTW).
Currently the industry uses point source emissions monitoring which only provides a localised understanding of emissions in a selected area.
Scottish Water's focus will be to use scanfeld for greenhouse gas (GHG) emissions monitoring and quantification to understand what their baseline emissions are for Nitrous oxide, Methane and Carbon dioxide at their WwTW but also to identify where on their WWTWs they are emitting GHGs and therefore mitigate these emissions faster.
This deployment is an important step in Scottish Water's journey to Beyond Net Zero by 2040.
With over 1800 WwTW distributed across the country in cities, towns and rural areas they are a known greenhouse gas emissions source. However, identifying, quantifying and locating the sources of these emissions is a big challenge.
To address this emissions challenge, Scottish Water leveraged their dedicated research and innovation programme, the Hydro Nation Chair (HNC), to identify and source possible technological innovations and solutions in support of their Net Zero strategy.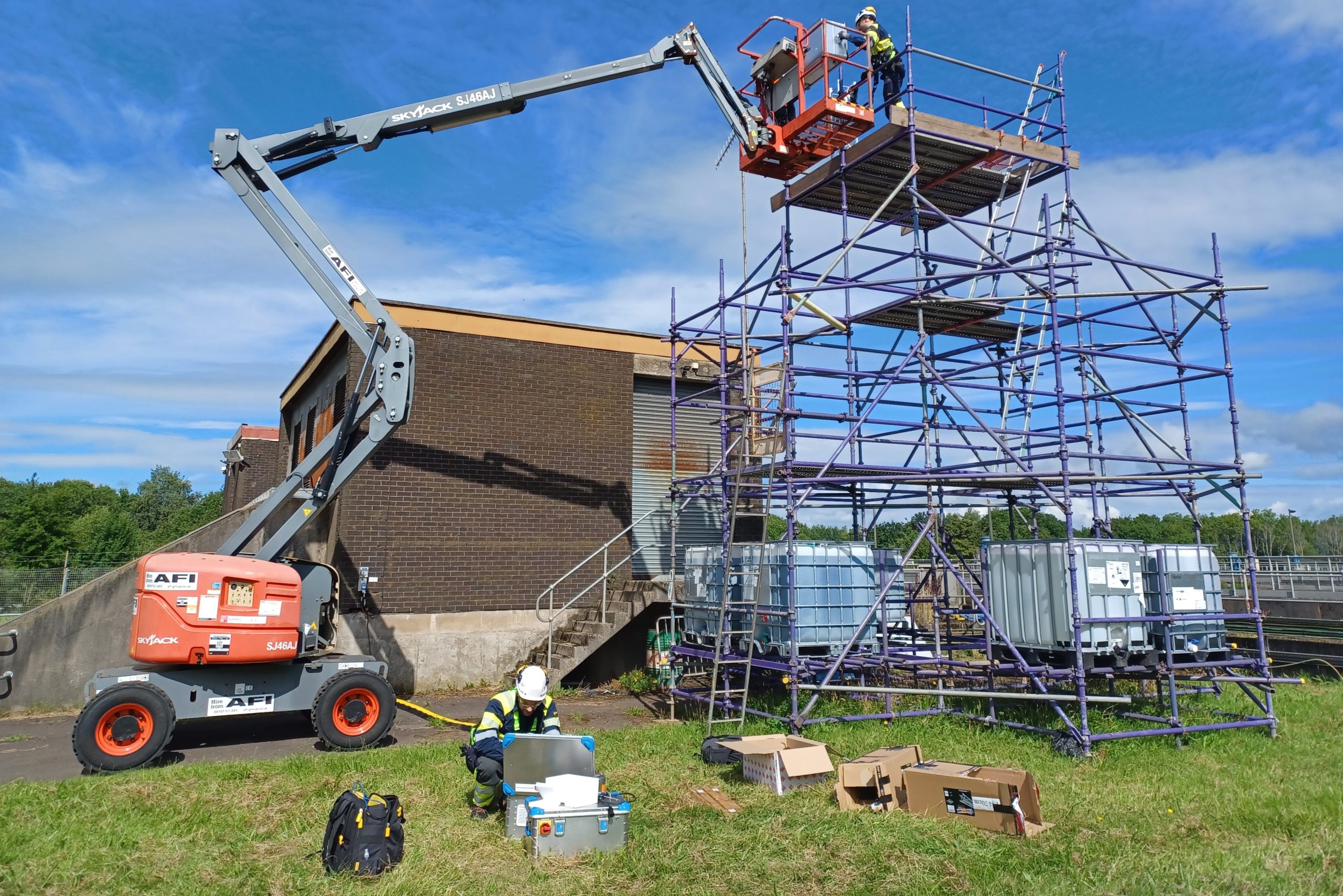 The HNC Technology Programme, led by Senior Innovation Fellow, David Millar has been working closely with Susan Lee, Scottish Water's Research & Innovation Net Zero programme lead to identify and assess over 200 technology businesses from around the world. From this activity, a handful of technologies were selected for further trials, including scanfeld, which has just been deployed at a WwTW near Glasgow in this UK and Water sector first.
It is hoped this technology will give Scottish Water much more granularity on the types of emissions, the quantities and sources so that they can further refine their process emissions strategy and approach in order to go beyond Net Zero by 2040.
Professor Andrew Tyler said: "This is an exciting milestone for the Hydro Nation Chair programme and Scottish Water. This UK and Sector first deployment of Grandperspective's scanfeld solution will enhance our understanding of greenhouse gas emissions from WWTP and establish a baseline against which we can assess change."

George Ponton, Head of Research and Innovation at Scottish Water said: "The Hydro Nation Chair programme has been established to bring thought leadership, research excellence and innovative solutions from Scotland and beyond; focused on addressing the key challenges facing the water sector in Scotland."

David Millar, Senior Innovation Fellow at the University of Stirling, said: "We have selected this technology for trial because it offers a level of granular detail which we hope will deepen our understanding of emissions from wastewater treatment plants. Identifying, quantifying, and locating the sources of emissions at these plants is vital as we work towards the target of going beyond Net Zero by 2040."

Susan Lee – Net Zero programme lead at Scottish Water said: "This is a great opportunity for Scottish Water to start understanding how much we are emitting on a whole wastewater treatment site scale by using the scanfeld system and collaborating with Grandperspective this will complement the industry best practice methods we are already adopting of point source monitoring to quantify our emissions"

Peter Maas – Chief Technology Officer, Grandperspective said: "We eagerly anticipate the results of Scottish Water's scanfeld deployment. The technology's potential to drive sustainability and facilitate emissions monitoring is truly promising. Excited to support Scottish Water's journey towards a greener future!"