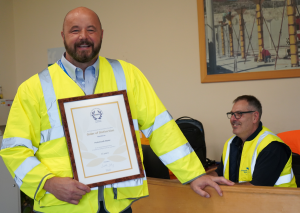 Portsmouth Water has received The Royal Society for the Prevention of Accidents RoSPA Distinction Award for outstanding performance in Health and Safety over 18 years.
This is the highest award that RoSPA can bestow, and it is a testament to the company's enduring commitment to the safety of its staff, contractors and customers.
Commenting on the awards, Bob Taylor, CEO of Portsmouth Water, said:
"We are extremely proud to receive this prestigious award. It is a recognition of our long-standing commitment to safety and our belief that everyone deserves to work in a safe environment. We are committed to continuing our work in safety and to making our workplace even safer in the years to come."
In addition to receiving the RoSPA Distinction Award, Portsmouth Water also placed first in the water industry for the first quarter results of C-MeX (April 2023 – June 2023). The customer measure of experience (C-MeX) measures the experience customers have with their water company when contacting them and overall customer perceptions. This award is a testament to the company's commitment to customer service.
Matthew Hamilton, Chief Customer Officer at Portsmouth Water, said:
"We are beyond thrilled to have placed first in C-MeX. This award is a recognition of the hard work and dedication of our employees, particularly in customer services and out in the field who are committed to providing our customers with the best possible service."