Aquatech is one of the leading water technology shows in the world, with over 800 exhibitors and an expected 22,000 visitors from over 140+ countries. The show takes place at the RAI Amsterdam in The Netherlands from 6-9 November 2023.
Launching the Aquatech Worlds
The new four Aquatech Worlds are ground-breaking focus areas that embrace the current trends in the water industry, providing visitors with a comprehensive experience tailored to their specific interests and challenges. Introducing Clean Water World, Wastewater and Resources World, Industrial and Corporate Water World, and Digital World, Aquatech Amsterdam clusters content, challenges, and solutions, enabling visitors to navigate their way toward the right solutions and partnerships. By shifting from a product-focused approach to a challenge and solution-focused mindset, the Worlds embody innovation and serve as a hub of educational and inspirational sessions, fostering efficient and effective learning from colleagues, technology experts, and knowledge partners.
Digital World
Digital water is still a rapidly emerging field that holds immense potential for water professionals to transform the way we manage and optimize water resources. It involves using digital technologies, data analytics, and real-time monitoring to improve efficiency, sustainability, and decision-making in water management.
Location: Hall 3, 03.310
Clean Water World
Drinking Water treatment needs to keep pace with increasing challenges. From increasing contamination threats to high energy prices and threats from climate change. It's time for clean water practitioners to assemble and share best practices and knowledge.
Location: Hall 5, 05.622
Waste Water & Resources World
Driven by Net Zero and circular ambitions, every single water user needs to reinvent themselves to reuse water and harness energy from waste. This World unites the forerunners leading the resource revolution.  The programme is organised by GWI, EDS, Water Alliance and NWP.
Location: Hall 7, 07.508
Industrial & Corporate Water World
Industry is one of the biggest water users. Water issues have entered the board rooms of large companies, with water-related risks making companies act as stakeholders amongst other water users. The Industrial & Corporate Water World creates a meeting place where industry experts can exchange their ideas and experiences with their colleagues in the industry as well as with potential solutions providers. Topics include Challenging Water, Salts and Water, Bio in Water/Water Security, Safe Water Reuse, Water as a Utility, and Sustainable Mining.
Location: Hall 7, 07.246
InnovationLAB including the winners of the Aquatech Innovation Award
Research and development in water are vital for the future of many businesses, as well as for a sustainable future. The InnovationLAB features early-stage technology innovation for all to see, feel, smell and touch! The latest in research and development is shown, giving visitors a sneak preview of future technology trends in the water industry. Aquatech encourages and rewards organisations that innovate and stand out from the crowd by showcasing the nominees and winners of the Aquatech Innovation Award as well as demos and scale models of fundamental research projects by universities and research institutes.
Location: Hall 7, 07.550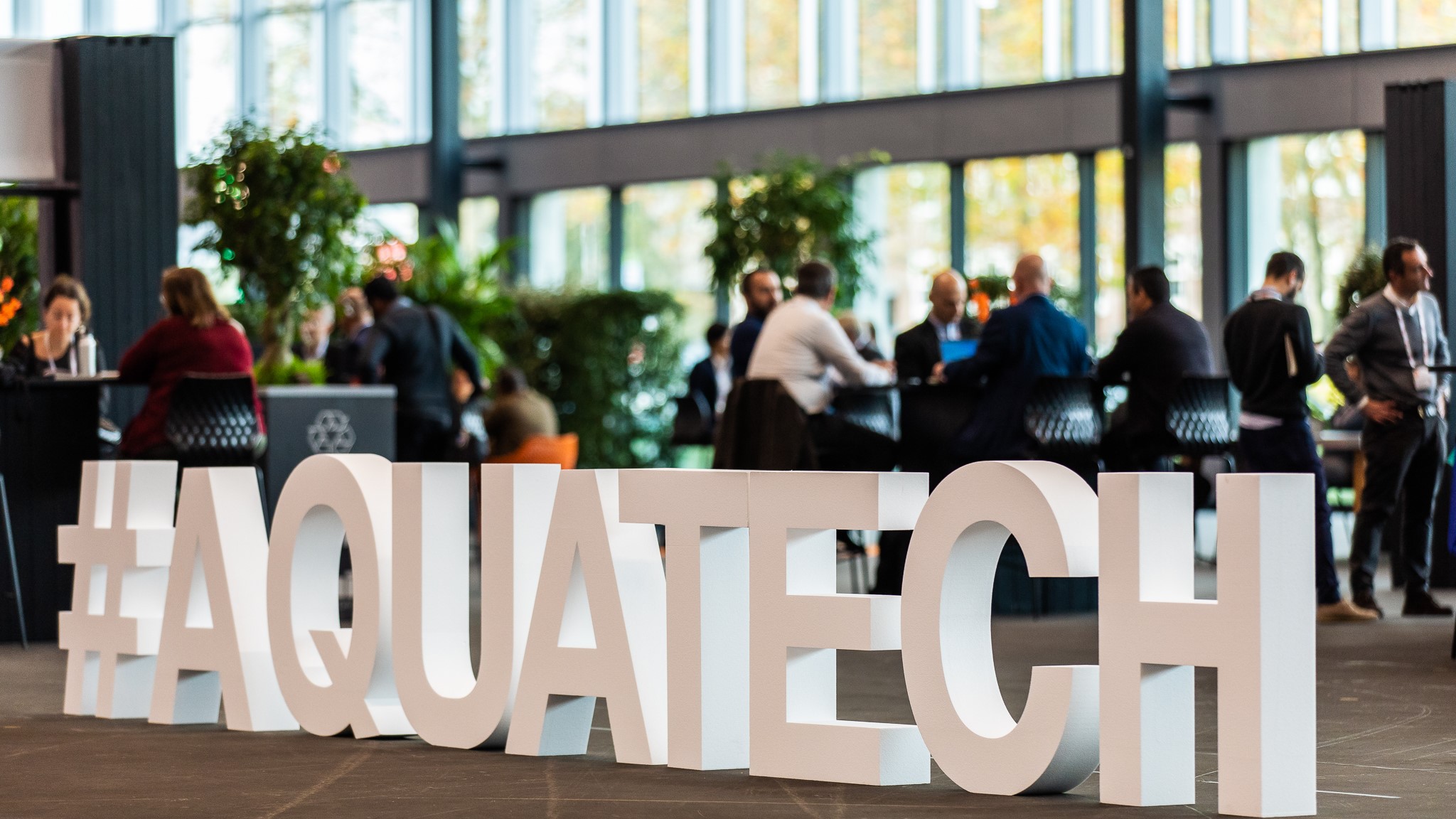 The show will also feature several pavilions and bespoke areas including:
Circular Economy Pavilion
Bluetech Research Innovation Pavilion
EU Innovation Projects Pavilion
Digital Water Pavilion
Country Pavilions
AquaStage
World Championships Pipefitting
International delegations
Exhibitor Happy Hour
AquaRun
Aquatech Innovation Forum: Accelerating Water Agility