High-exporting advanced manufacturer Coltraco Ultrasonics won the Queen's Award for International Trade in 2019 and are honoured to win it again in 2022 for Outstanding Growth in international trade over the last three years.
The Queen's Award for Enterprise is the UK's most prestigious business award and is a globally recognised royal seal of approval for UK companies. In its 56th year, the 2022 Queen's Awards for Enterprise comes in this special year of Her Majesty the Queen's Platinum Jubilee.
Coltraco Ultrasonics win their second award as a demonstration of outstanding success and resilience during the unprecedented times of COVID19, The company exports over 90% of its output to 120 countries, with 150+ distributors in 80 countries.
Coltraco have enabled their three years of increased international trade by opening new sectors in markets where they already have a presence. By focusing upon science, exporting and diversification, including the development in 28 weeks of an instrument for NHS Hospitals to monitor infection contagion from negatively pressurised ICU Wards to the rest of the hospital and an instrument to ensure that buildings are airtight so that they can properly ventilate to ensure "safe working" in them, Coltraco Ultrasonics are fortunate to have experienced international growth in the past three years.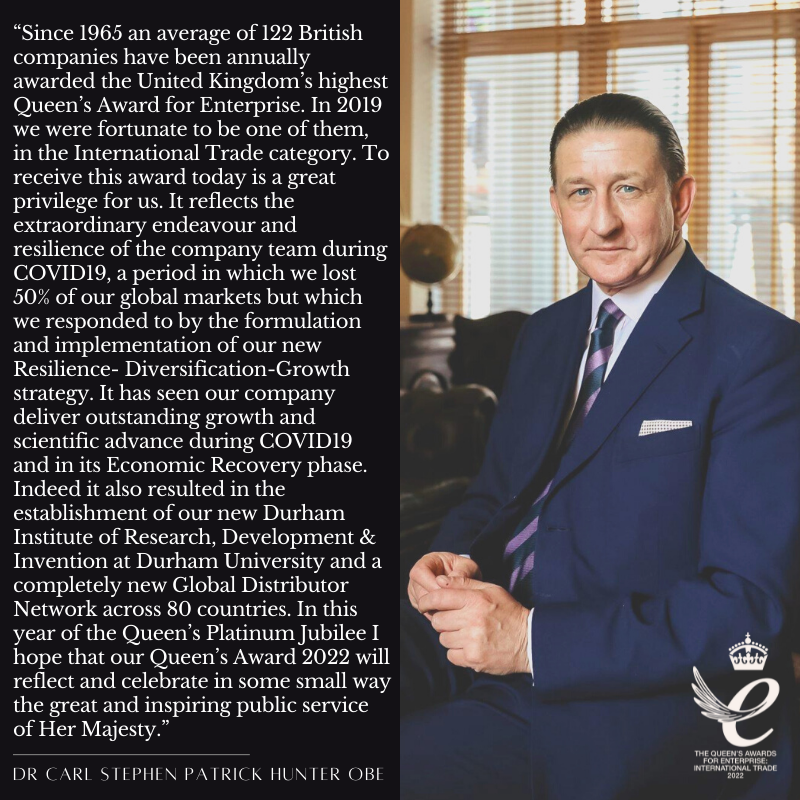 3 Years of Growth in International Trade During COVID-19
During the challenging 24 months of the pandemic Coltraco Ultrasonics developed their high-exporting advanced manufacturing tradition and created a new science-led organisation that comprises the Company, their Institute (DIRDI) and its Centre (CUAA). Coltraco have continued in 3 years of outstanding growth despite COVID19 because of their Resilience-Diversification-Growth Strategy created during it. The company never went into furlough despite losing 50% of its global markets during COVID19 and have built new company export and scientific success since.
Their changed strategy made them less dependent on a few "primary" market sectors and brought them together into a "Multi-Sectoral" whole with a Global Distribution Network to fulfil them. With the change of the company since COVID19, they have now become a "multi-sectoral" company which their Research & Development Plan and Global Distribution Strategy are designed for, increasing exports and international trade.
Coltraco Ultrasonics have said that they would like to thank all those who judged them worthy of such an award, and to their Chairman, Carl Stephen Patrick Hunter OBE, the company team, their suppliers and of course distributors and customers who have helped them achieve this over the last 3 years.